October 23, 2014
More for Less…..Less for More
Couple of weeks back I had written regarding a goofed up case of two tablets, exclusively launched on two different websites. Such things happen between overzealous rivals. But sometimes, things go out of hand when you start competing with yourself.
Such seems to be the case with Flipkart, which has just come out of the big billion business/dare/scare/whatever you prefer to call it. Though I felt that Flipkart did a commendable job, managing the deliveries of the tsunami of orders on The Big Billion Day, internally, it seems to have implemented a sales algorithm which contradicts itself and shows flopkart flipkart in poor light.
A listing of Canon EOS 1200D appears on its website with stock lens kit for Rs. 27,196 whereas they have also listed a Canon EOD 1200D with stock lens and a 55-250 mm lens for Rs. 26,500. Both listed side by side.
Absursd!! But true. Here is the link(might be corrected by the time you see it hence the screenshot below). It will take a person with abilities to overlook details and/or understand simple arithmatic to go for the costlier deal.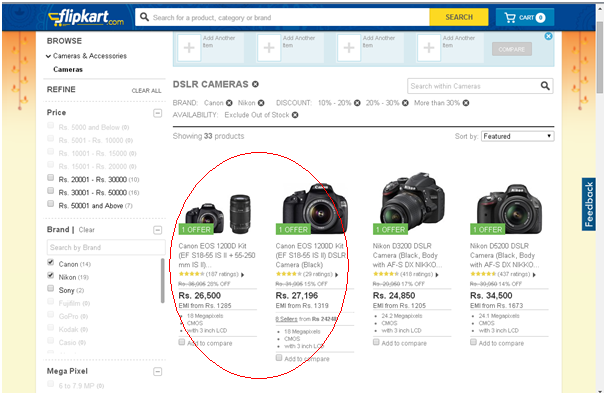 It could mean that:
Either the double lens kit package has some manufacturing defects
or
Flipkart simply goofed up.
There cannot be any other explanation. Both the listing are by WS Retail (Flipkarts own listing, not a third party seller listing)
Wake up flipkart. Unless you do not intend to have many more successful Big Billion Days.
Apple is all set to launch its 10th anniversary editionRead more…